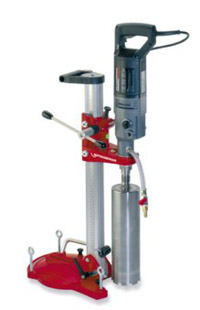 £1575.00
+ vat
Delivery:
£39.00 + vat.
Rodiacut Diamond Core Drilling System

The Ultimate in professional diamond core drilling systems, the Rodiacut system is versatile for both wet and dry drilling, either by hand or column mounted. Dry drilling is ideal for brickwork, masonry and blockwork wheras for more difficult materials such as re-inforced concrete, marble etc. wet drilling is the solution. All of the Rodiacut units have an adjustable drilling column from 45-90° and a universl drill motor with a slipping clitch and anin-line RCD
The Rodiacut drills will universally accept any diamond core bits with a 1/2" BSP male and/or q q-4" UNC female thread connection wothout the need for adaptors.

Complete Diamond Core Drilling Package

Rodiacut 131 DWS System (10-131mm)
comprising of:
Diamond Core Drill Motor (1800 watts) with 2 speed gearbox
Drilling column
60mm Ro-Diacore laser wet cutting diamond core bit
Concrete fixing bolt set
Assembly tools.